Best Paper Award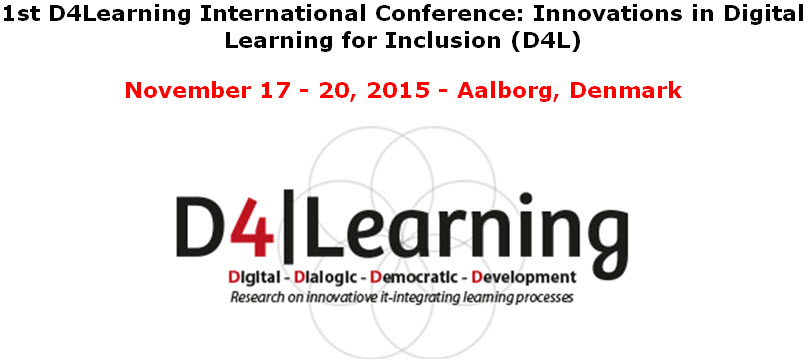 Best Paper Award
Recognition of Excellence
Best Paper Award
One award to paper #34, Francesca Pozzi, Andrea Ceregini, Francesca Dagnino, Michela Ott, Mauro Tavella: Supporting the "Whole Learning Design Life-Cycle" through Pedagogical Planner, from the following traditional criteria of quality (relevance, thoroughness, applicability and transferability to practice).
One award to paper #15, Thomas Kjaergaard, Christian Wahl: When Innovative Instructional Designs are too Innovative: Lack of Schema, motivated by the following criteria of quality (theoretical novelty, theoretical solidness, thoroughness, and empirical "faithfulness").
The awards are kindly sponsored by UCN.
Since 2008, EDEN has bestowed the Best Research Paper Award at its Annual Conferences and the bi-annual Research Workshops. As an organizing partner of D4Learning Conference 2015, the tradition of awarding the Best Research Paper will be continued at the D4Learning International Conference: Innovations in Digital Learning for Inclusion (D4L).
A robust selection process guarantees the high-standing of these awards for contributions to the field of open, distance and e-learning. The selection process takes place in collaboration with the Ulrich Bernath Foundation for Research in Open and Distance Learning, with the support of a distinguished Jury.
Papers are evaluated against the following criteria:
• contributes convincingly to the theme(s) of the conference;
• deals with a research question of relevance for conference participants;
• rigorous examination/research methods are applied;
• findings, results and outcomes are convincingly presented and critically examined;
• conclusions are thoroughly discussed (including aspects like applicability, transferability, and/or further research);
• literature is reviewed against the state of art.
In addition, authors need to confirm that at least 30% of their paper is originated for the actual conference.
Navigation
About the conference
Venue
Invited Speakers
Registration
Travel and Accommodation
Local Information
Contact